Make an approach. Once get charted where your bargains are, develop a plan. It's going be helpful to be in the stores as soon as possible to obtain the best bargains. Often, there definitely limited involving items have been around for the biggest bargains and "Doorbuster" items. Especially for electronics, it isn't uncommon for lines to produce outside a local store hours before opening.
Is Efraïm mij een zoon zo kostbaar of zozeer het kind van mijn geluk, dat telkens 
wanneer ik tegen hem heb gesproken ik hem blijf gedenken en nogmaals gedenk?-
De bekendste gelijkenis die Jezus vertelt is wel die van de verloren zoon in Lukas 15, 11-32. Het begint met een jongste zoon. Die zijn vader op hoge toon om de erfenis vraagt. In een patriarchale samenleving werd een vader geacht zo een zoon per direct de deur te wijzen.
Maar de vader geeft zijn jongste zoon wat hij verlangt. Van woede en verontwaardiging bij de vader lezen we niks. De vader blijft van zijn zoon houden. En verdraagt de pijn.
De zoon draait het geld er in korte tijd door. En raakt aan lager wal. Houdt zich zelfs op bij varkens. Dieper kan hij niet zakken.
Als hij alle mogelijkheden om er op eigen kracht nog weer bovenop te komen volstrekt verprutst heeft ziet hij nog maar één uit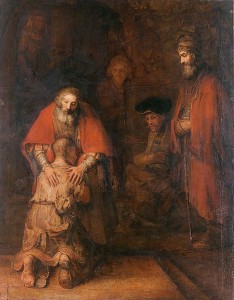 weg: terug naar huis. En dan maar als knecht: als zoon heeft 'ie zijn rechten wel verspeeld.
De vader rent zijn zoon tegemoet zodra hij 'm ziet komen. Onvaderlijk gedrag. Trekt zijn kleed op en rent de deur uit. Tot spot voor de buren. Zonder enige voorwaarde omarmt de vader zijn zoon. Het beste kleed haalt hij voor de dag. Hij bedekt de armoede van zijn zoon met een mantel van eer. En organiseert een luxe maaltijd. Met kostbaar vlees. Met muziek en dans. Zoals onze hemelse vader dat ook met ons doet. Genade voor recht.
De oudste zoon toont zich mateloos jaloers. Zo blij de vader is, zo boos en afwijzend is hij.
De oudste zoon loopt over van plichtsbesef. Hij is gehoorzaam. Conformistisch en volgzaam. Ook voor hem gaat de vader naar buiten! Maar de oudste zoon wenst niet aan het feest deel te nemen. Hij gaat niet naar binnen. De jongste zoon leerde op het dieptepunt van zijn leven wat er mis met hem was. En hij besefte waar redding wachtte: bij de rijkdommen in het huis van zijn vader.
De oudste zoon besefte juist niet wat er mis met hem was. Zijn goede werken kwamen tussen hem en zijn vader in te staan! Hij beseft niet dat het uiteindelijk gaat om de vader. Uiteindelijk kende hij zijn vader niet. Begreep hij niets van genade en van evangelie. Had hij geen besef van liefde.
Het feestmaal was aan hem niet besteed. Het feestmaal, dat wij in het avondmaal elke zondagmorgen vieren.
daarom zijn mijn ingewanden in beroering over hem, ontfermen, ik moet mij over hem ontfermen!, is de tijding van de Ene.